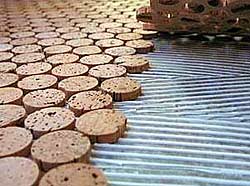 Calling all process engineering experts!
We're looking for cork slicing equipment that would be suitable for trimming used wine corks into consistent thickness discs similar to the ones shown in this photo.
If you can recommend the best equipment or process to accomplish this — or if you operate equipment in the lower mainland area of British Columbia, we'd love to hear from you!
We are also looking for remanufacturing processes suitable for the synthetic wine stoppers that find their way into the natural corks we collect. So ideally this equipment would also be suitable for synthetic stoppers.
If you have equipment that you think would be suitable, please let us know and we can provide a batch of natural corks and synthetic stoppers for testing.