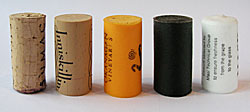 Manufacturers of synthetic wine stoppers have done a great job of matching the appearance of natural cork. Great aesthetic, but this is a real problem when it comes to separating natural and synthetic corks for recycling.
All 4 corks shown in the right of this photo are synthetic. You can see how good a match the second cork is to the natural one on the far left. However the 3 on the right are all obviously synthetic. When it comes to manually sorting wine stoppers the best solution is a quick visual difference.
Despite the best efforts of our cork recyclers, synthetic stoppers still make up about 20% of the total volume we collect and when they're a close visual match to natural cork it really slows down the sorting process. To date there is no automated method to sort these material since their characteristics are very similar.
Calling all process innovators — if you have a method in mind, we'd love to hear from you!